Old warehouses, barns, and industrial buildings have become the subject for renovations, producing creative and unique estates that have taken the design world by storm.  Industrial details such as exposed rustic finishes, structural elements and industrial motivated decors create a new type of ambiance. Domestic plumbing services can be made industrial with the right fittings, showing there is no limit to a certain room in the house in creating the industrial theme. The industrial style can be integrated into your home by bringing back a design age that concentrates on manufacturing, mechanical creativity, and unrefined and uncompleted interiors. If you appreciate urban lofts and barn conversions on the latest interiors magazines, check out these ways to renovate your home with these industrial style details.
Seek inspiration by looking to buildings with historic pasts
Before deciding on the industrial details you can research and check out old buildings that share a historic past to expose ingenious ideas you may not know about. Exposed architectural timbers, bare brick walls, wooden roof trusses and steel pillars without drywall covers are widespread in warehouse and manufacturing regions. Consider exploring your local downtown city to check if there is a revival of older buildings. Cities worldwide have started the restoring warehouses, barns, and factories and converted them into high-class condominiums and office buildings.
Acquaint yourself with rustic metals for your interiors
Metals and metallic by-products were major components in plumbing and lighting fixtures, cabinet and doorknob hardware and for structural members in roof and column member during the worldwide industrial revolution. Wrought iron, now being used as a decorative, provides an industrial element that compliments a modern home. Brushed nickel, copper and cast iron metals can also add an organic and industrial ambiance to your home.
Exposed mechanical details in your modern home
Fans of the industrial rebirth in furniture, fixtures, gas fitters and lighting always keep a look out for unique pieces such as pulley inspired lighting, to scissor accordion lighting sconces that they can integrate in their interiors. The mechanics behind these pieces are not left to the imagination. By exposing the mechanical workings of these pieces, the appeal of industrial details is achieved.
Mixing and matching modern details with industrial charm
The capability to combine your current modern-day styles with older inspired architectural details is what makes adding industrial elements into your home fascinating. The best place to start is with your kitchen.
Appliances with shiny stainless steel surface or built-in cabinetry can make use of concepts from the industrial era and get added modification to portray the industrial elements. For a quick transformation of your kitchen, you can use pendant lighting such as filament lighting that uses Edison-style bulbs creates the look of industrial and retro lighting along with choosing fixtures with rustic metals and details.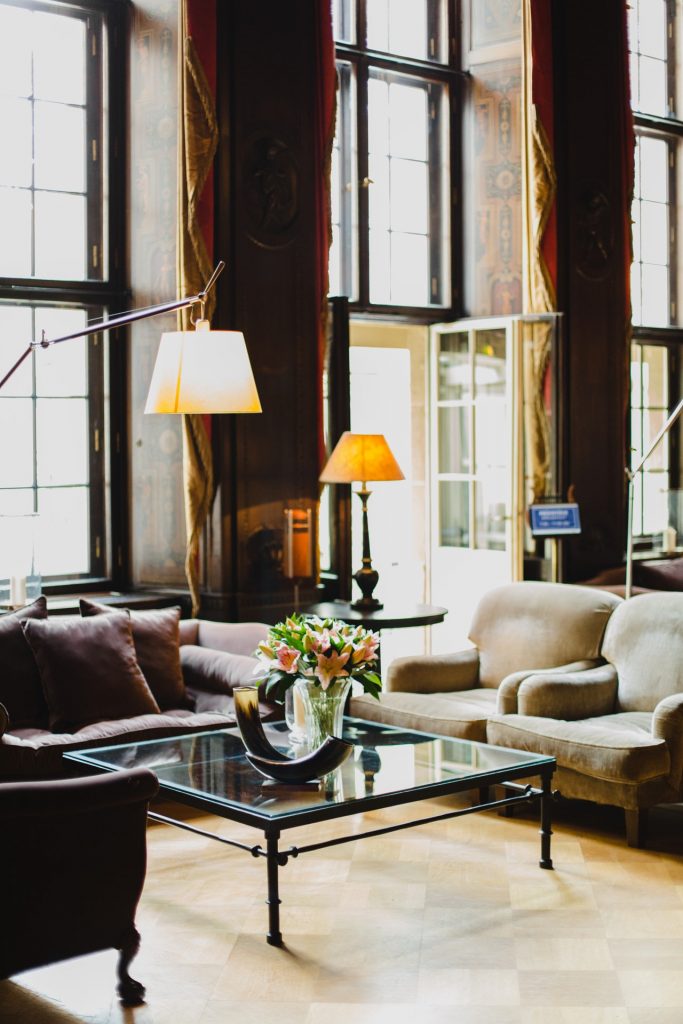 Bring an artistic panache to your interiors with expressive artwork
Expressing your creative design style using artwork is another way to bring industrial architectural details into your home. You can make an instant accent wall in your bedroom or living room with bold graphics, murals, and even painting bold symbols on an exposed brick wall. You can also use your artistic side by creating your own artwork. You can get inspiration using common objects in your area such as symbols, literary numbers and letters, or even abstract painting can turn a plain and dull wall into a masterpiece.
Renovate your home with nods to industrial design
Finding architectural focal points that need a new face is a brilliant way to bring in industrial details while renovating your home with the help of home renovation builders. You can reface Fireplaces and accent walls with industrial exposed resources to produce an industrial inspired look while leaving the rest of your room looking contemporary and clean. You can use concrete for finishing. It is structurally useful and can be polished for a shiny finish or left matte or unfinished for a rustic appeal. Concrete can be used on floors, countertops, sinks, bathtubs, fireplaces, and more.
Repurpose and reuse in your industrial-inspired home
It's always tempting to buy new things for your home, however, there are plenty of ways to repurpose, reuse and recycle from other parts of your property to bring out the industrial appeal in your interiors. If you plan on renovating, you can check out reclaimed wood, metal and building structural members used in barns, warehouses and older buildings that are being torn down in your area. You can use reclaimed timber or laminated timber and architectural elements such as railroad ties from lumberyards.  These can be utilized for a rustic and industrial appeal to your ceilings for an artificial structural aesthetic.
Bring industrial accents into your outdoor home
Industrial design style is not only applicable for your interiors; it would also look gorgeous on your outdoor entertaining areas. Industrial style outdoor lighting along with bigger bulb string lights is a great combination and will bring a delightful radiance to your exteriors and house extension. Your favorite lighting store will have a line of outdoor fixtures that are inspired by industrial details that is perfect for your application.